Cooking with fire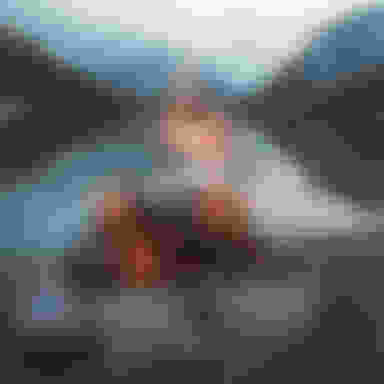 Memories made around a campfire are some of the best—especially when the weather turns a little warmer and you can enjoy eating outdoors. Whether you cook this simple three-course meal while sitting around a campfire or fire up your backyard pit, it offers a welcomed transition into summer camping and grilling season. And bonus…it's super easy!
COURSE 1
Firepit walking tacos
Walking tacos are easily prepared over an open fire, and they are also a real crowd-pleaser. If you have kids, they'll enjoy helping prepare this course. Just be sure to review fire safety rules and ensure there is an adult close by. Here is what you'll need for each taco (plan on at least 1 to 2 per person):
One snack-size bag of Doritos or Fritos

One serving of cooked hamburger or a meat substitute (2 to 3 ounces)

One serving of cheese (1 ounce)

Chopped lettuce

Tomatoes

Your choice of any other toppings or spices
Once you have your walking taco ingredients lined up buffet-style, have each person (or designated taco chefs) fill a chip bag with their choice of toppings and shake with the bag closed. It's important to put the bags in a fire-friendly pot and allow the meal to slightly warm up over the flame. Be careful the bag doesn't touch the flame or become too hot.
COURSE 2
Campfire corn on the cob (and other veggies)
Everyone needs to eat more veggies, right? Corn on the cob counts! There are many other firm vegetables such as zucchini, potatoes, and cauliflower that are great additions to this fire pit recipe. Wash and cut your veggies into large pieces, brush with butter and add spices. Based on your taste, you can go simple or ratchet up to savory. Consider these spice tips:
Simple: Salt and pepper

Fresh: Garlic and lemon

Spicy: Jalapenos and hot sauce

Savory: An array of ooey-gooey cheeses
Next, place corn (and other vegetables) into a fire-friendly pan or pot. Cover the inside of your pot with tinfoil. Take your pot to the fire and cook for 10 to 15 minutes or until the veggies reach your desired tenderness.
COURSE 3
Beyond the basics s'mores
Classic s'mores are delicious, but there are no hard-and-fast rules around ingredients. For example, instead of using a plain bar of chocolate (traditional) to create your s'more, add your favorite candy bar—such as Reese's Peanut Butter Cups, Twix, Milky Way or another. By being unique, you may come up with a new favorite campfire dessert.
There you have it! A full—and fun—menu to help you fan the flames of campfire cooking enjoyment. Try out these recipes and spark a new family hobby.
Back to issue